Australian Premiere of Love Socks Movie at the Sydney Indie Film Festival!
Dear Love Socks Team, Supporters, Friends and Fans!
We are very delighted to announce that the very anticipated time for the LOVE SOCKS MOVIE Victorian premiere has come!
Congratulations for entire LOVE SOCKS Team!
The LOVE SOCKS Victorian Premiere will take place as part of the MELBOURNE INDIE FILM FESTIVAL 2016 Program!
Date: 10th July 2016
Time: 6:00PM
Location: Cinema Space at the Loop Project
Address: 23 Meyers Place, Melbourne, VIC 3000
Tickets: AU$12.00 + Booking Fee
Book your tickets online exclusive via Eventbrite:
Melbourne Indie Film Festival Showing Session:
Feature Film: Love Socks + Short Films! "FAIR DINKUM FILMS" AUSTRALIAN MADE MIXED SESSION!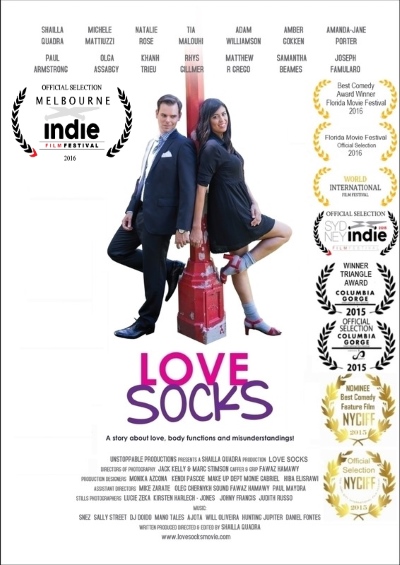 Feature Film:
Love Socks (Australia)
(Victorian Premiere)
Director: Shailla Quadra
Cast: Shailla Quadra, Michele Mattiuzzi, Olga Assabgy, Amber Gokken, Adam Williamson, Rhys Gillmer, Natalie Rose, Samantha Beames, Paul Armstrong, Khanh Trieu, Matthew Grego, Tia Malouhi, Joseph Famularo
The mismatches of love and bodily functions!
A heart warming story about the misunderstandings that get on the way of love. The silly little things that we make big deal about and end up letting stop us from fully embracing life and love.
As a child Frederica is diagnosed with a phenomenon called Reynolds Aguda, which means she will sneeze forever. She finds out that the only way to stop her affliction is to wear socks. The film unfolds the troubles that follows when she loses her socks. With close friends by her side helping her through, she might be able to find love after all.
LOVE SOCKS is an entertaining look into love, family, friends and body functions conflicts.
LOVE SOCKS is partly based in true events.
New York City International Film Festival 2015 (Nominated for the Best Comedy Feature Film Award), Columbia George International Film Festival 2015 (Winner of the Triangle Award), Sydney Indie Film Festival 2015 (Out of Competition), Singapore World International Film Festival 2016, Florida Movie Festival 2016 (Winner of the Best Comedy Award).
Trailer:
http://www.youtube.com/watch?v=Ar9xdOJc0_U
Short Films:

Dummy (Australia)
Director: Riyana Kasmawan
Cast: Kieran Cochrane, Will Freeman, Ella Watkins
DUMMY" is a short drama film revolving around the imagination of a young boy living with his older brother, who discovers a new companion in the form of an abandoned shop mannequin. Spending time between his hidden hide-away cubby, where he tries to make an effort to bond with his new-found friend, and at home where his brother's abuse of his teenage girlfriend is barely disguised, the boy becomes frustrated when his dummy doesn't illicit all he desires from the friendship.

La Chienne Francaise (AUSTRALIA)
Director: Jordon Prince-Wright
Cast: Kelly Belinda-Hammond, Daniel Williamson
Set at a railway station in rural France in 1946, Danny is one of a small team of Australian soldiers who had remained in France after WW2 assisting in special duties. After spending a few days with relatives, his final journey back to Australia was to begin with a train journey to the port of Cherbourg. Once on the train a tired Danny becomes involved in a confrontation with Lulu. The fast moving action that follows this initial confrontation becomes a series of comical scenes.

Lady's Day (AUSTRALIA)
Director: Laura D'Augello
Cast: Samantha Pearce
A young woman from the early 1840s is transported to the present day to watch her one true love slip away.

Qupid (AUSTRALIA)
Director: J E Flood
Cast: Sally Dulson
Kidnapped victim Roo must escape a wannabe Cupid before she is injected with an untested love syrum.
When
Sunday, 10 July 2016 from 6:00 PM to 8:00 PM (AEST)
Where
Cinema Space at The Loop Project – 23 Meyers Place, Melbourne, Victoria 3000
Meet Australian and international Filmmakers, participate in Q&A sessions, join the celebrations at the red carpet events.
Check out the schedule for full program and pre-purchase your tickets exclusive via Eventbrite:
Looking forward to seeing you all there at this very special event celebration of Australian and International Films!